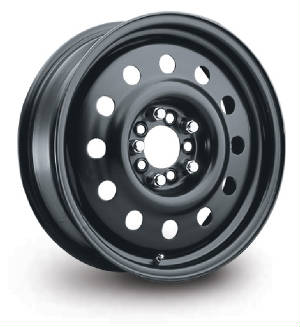 Pacer 83B Black Matte Finish
Do you have a full size spare tire?
Do you have a spare tire?
Does your spare tire look like it belongs on a toy scooter?
Scenario #1
You driving a tire blows out or goes flat. You get stuck without a spare tire. You now have to wait for the tow truck to bring you to the nearest service center. They know your vehicles going no where without a replacement tire. Do you think your going to get a good deal?
Scenario #2
Your driving a tire blows out or goes flat. You get stuck with the toy scooter spare bolted down in the trunk. You or the tow truck driver puts the small spare tire on. You now have 50 miles of driving no more than 35 mph before this toy tire will no longer be of any use.
Recommended Tip: Have your spare tire air pressure checked.
Buy full size steel wheels for your vehicle from our website. These steel wheels have multiple bolt pattern fitments which make them a great investment should you choose to re-sell them.
ATTENTION!
Our steel wheels are priced below retail.
You could buy and resell them for a profit!
Full size steel wheels are great for
Full size spares
Winter tires
Cost effective replacements
We will be adding more steel wheels from our wheel warehouse to our online inventory in the next few months that have even more lug and bolt pattern fitments that are not currently available online.
Check out our wheel warehouse online
Wheel Warehouse Online